The development of a web site not only moves one forward through a sequential set of tasks; it can also take one through the core of ones business practice. It has been our experience to allow this innovative, non-linear side of our thinking into the process. It can often make the difference between a bland site or a truly engaging experience.
The process will vary some from project to project, since each business is unique, but the basics are the same. Quite simply:
1) Connect to talk, listen and share ideas,
2) Plan and design,
3) Build and test the site,
4) Launch, promote, analyze results and celebrate!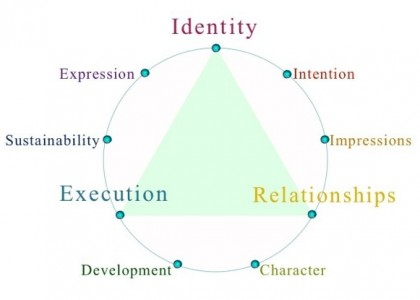 The diagram above illustrates the main characteristics of each stage of development starting from "Intention" and moving counter-clockwise around the circle to "Identity". For a more detailed description of this process read on.

The creative process actually began before you read these words. It is where you are coming from – your identity. You are probably searching for creative and effective ways to make a strong web presence. You may know what you want or don't want to some degree. You may have a budget in mind and a set amount of time and resources to reach your goals. You may be looking for guarantees or wondering what to expect. This page attempts to address your questions. Once you contact us, we will gladly reply by phone and/or email to any preliminary questions you have – no matter how basic they may be. When you decide to work with us, we will draft a "Website Development Agreement" together which includes a "Statement of Work" outlining every detail of what you need to get done. Once it is signed and returned with a negotiated deposit, this confirms your intentions and initiates the project.

Lines of communication are then broadened. Our first priority is to understand your business and intentions. Everything that you can tell us is recorded as potential material to draw from. You are given your individual "Planning Worksheet" which helps focus your thoughts on the site. We setup secure places for us to exchange information and critique developments. This compiled information, planning worksheet and the Website Development Agreement combines to make a blueprint covering all aspects of the work and maps our way forward. The characteristic of this stage and the next in the process is about "Relationships".

Embedded in your content which includes text, logo, brand items, assorted graphics and mixed media, are your principles and business practices, Your culture and unique offering to the on-line community is expressed here. This material, (if not already infused with vitality and individuality), will be prepared to convey an attractive impression -complimenting your messaging. Market analysis of how your website would rank next to similar business websites helps to differentiate you from the others. Your target audience is identified and the ways to reach them are mapped out on a time-line. Your unique business qualities are identified and will be used to frame the argument for your business.

By now it should be fairly clear what path to take technically. The work of combining the design into programming code begins. What now exists between your target audience and your business are the pages coming into existence. A volley of reviews and revisions commences to make sure the design and functionality is customized to clients preferences. The characteristic of this stage and the next in the process is about "Execution".

During this stage the site is privately put online and tested rigorously in the field and studio for: resolution and cross browser compatibility, loading time, coding errors, scalability and stress, user scenarios and other points. Final design adjustments are also made.
If you prefer to be more hands on, and update your own content, we can help you get started. Since many of our projects utilize easy to use open-source content management systems, there is a vast amount of useful information and video tutorials available to learn the ropes of keeping your website up to date. We go out of our way to make this transition comfortable. For those who still may wish for us to manage their site, we offer an affordable web maintenance plan.
Sustainability also depends on search engine code and programs being submitted to the right places. Also, Zellous.org network affiliations are established which help promote your site within your local area. A pre-launch checklist is reviewed. All systems go!

Website is uploaded to client's server or to one of our "green" hosts. The announcements go out and the opportunity is lived for all that it is worth – an excuse to host a special launch event. Meanwhile, we monitor the site closely using the analytical programs built into the site during its development stage. Follow-through is important. It sometimes becomes apparent that the site might be changed in some way to maximize the user's experience. All in all the characteristic of this stage of the process is about "Identity". You have established yourself and made a statement. There is an incredible sense of accomplishment.