Headway Themes
HeadwayThemes gives you a great deal of freedom and power to change your site.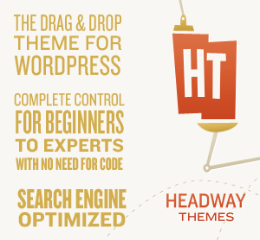 HT & Sustainability
One of the major reasons businesses and organizations have to re-do their website is because it was unable to adapt to the changes within that business and the environment it is in. Evolution at work! HT allows you to change any aspect of your site without having to go through an expensive and time-consuming ordeal with re-programming. Adapt to the times through an easy to use interface. With only a little training you can have the ability to be responsive to your business and clients in a way never before realized.
Design Visually
Headway can create unique layouts for each and every one of your pages. Headway lets you copy and paste your Google analytics code, achieve effortless rounded corners, generate a color scheme automatically based on the colors in your header image, use "hooks" without writing PHP, attain search engine optimization nirvana without adding any extra plugins, and much more. These are only a few of the killer features in Headway. Who says you have to dig deep into HTML and code to change the layout of your site? Headway's Visual Editor lets you do anything from creating a standard blog page to creating an e-commerce site. And of course, Headway can create unique layouts for each and every one of your pages.
The Best SEO Features Built-In
Headway features the best search engine optimization features out of any blog theme out there—all built in. No need for extra SEO plugins. Being visible in search engines is imperative for internet survival, and with Headway, SEO is easy to implement at the blog, page and post levels.
Helpful and Friendly Community
The Headway user community is a friendly place to get advice and help others with all things Headway. Our forums are active and we employ full-time moderators. The Headway support team is lead by Chris Howard, a 20-year support veteran.
Documentation In Plain English
Headway is robust and full-featured. You can do amazing things with it as long as you know how. To that end, we provide the "know how" in the form of videos and written documentation. No matter your learning style, you can learn how to do it all in Headway.

Reference: Headway Hub.